Contents:
I. Editorial by the Project Coordinator:
At the culmination of two years of work, ALCOVE, a European Joint Action focused on dementia in Europe, has made its conclusions and recommendations public! I am very pleased to be able to share these results in this newsletter.
The two-year project was an opportunity for EU Member States to share knowledge and collaborate together to make informed recommendations to help guide decision-makers, health professionals, patient associations, as well as persons living with Alzheimer's Disease and their carers.
These results will help improve informative data about dementia as well as support the better organisation of care for persons living with dementia, with the objective of improving their quality of life along with that of their carers.
Italy's Istituto Superiore di Sanità's work on dementia prevalence has shown that using very high quality studies leads to an estimate of 7.23 million affected by the disease – one that affected more than 6 million Europeans in 2011. (WP4)
ALCOVE's focus on dementia diagnosis was piloted by the UK's University of Worcester. The results propose differentiated public health strategies which could be used in all countries, regardless of their current realities. (WP5)
Finland's National Institute for Health and Welfare analysed support systems for the behavioural and psychological symptoms of dementia in conjunction with France. (WP6)
Belgium's King Baudouin Foundation focused on advanced directives and competence assessments, two tools which can be used to support the dignity and rights of persons living with dementia. (WP7)
All of ALCOVE's work has been monitored and has undergone rigorous self-assessment led by Slovakia's Institute of Neuroimmunology. (WP3)
Spain's Instituto de Salud Carlos III coordinated communication and dissemination for the ALCOVE project. (WP2)
France's Haute Autorité de Santé ensured the overall coordination of the project. (WP1)
The ALCOVE sustainable network has taken the opportunity to make a statement in Europe on the crucial issue of iatrogenicity and the overuse of antipsychotics in dementia, a topic which has been underlined by the WHO and identified by the European Medicine Agency as an area for priority research in 2013.
In my role as General Coordinator of the project, I wholeheartedly thank all of the partners and contributors to ALCOVE for the quality of the work which was carried out, and in particular, the patient and family associations, including their EU representative, Alzheimer Europe. I sincerely hope that ALCOVE's findings and recommendations will serve to improve the quality of life for persons living with dementia in Europe and their friends and families.
Dr. Armelle Leperre Desplanques
ALCOVE Project Coordinator
II. ALCOVE recommendations
To view all 53 ALCOVE Recommendations, please see the document

A total of 53 very useful and relevant Recommendations have arisen from the work carried out by ALCOVE's core Work packages. Below are some of the main recommendations which have been put forward according to Alcove's objectives:
1. Estimating Alzheimer Disease prevalence rates through the use of both high-quality studies and better data collection practices which would promote the linking of administrative, clinical and research databases to ensure that the maximum amount of patient data is taking into account (WP4).
Recommendations:
Prevalence and incidence studies on people living with dementia aged ≤ 65 years should be promoted to define dementia frequency.
Prospective and systematic collection on people living with dementia in specific settings (community, home care, memory clinics, nursing homes) in all member states is urgently necessary.
A list of antipsychotics used in each member state should be compiled, underlining the off-label use from the specific drug contained therein.
2. Facilitating and encouraging access to a timely Alzheimer's diagnosis while providing the emotional and psychological support that the person and his or her family requires (WP5).
Recommendations:
Timely diagnosis of dementia should be available to all citizens who require it and accessible to all sections of the community at a stage when people first notice changes in cognitive functions.
General population screenings are not recommended until there is better evidence of the reliability of screening alongside ways of preventing or delaying dementia.
Biomarkers (cerebrospinal fluid and functional neuroimaging) are only recommended for use within research centers and not within the scope of general clinical practice.
Family doctors and their colleagues working in Primary Health Care should receive education and learning, and evidence-based decisional support toolkits to assist them in their role of dementia detection.
3. Preventing and treating the behavioural and psychological symptoms of dementia (BPSD) holistically through non-pharmacological and environmental approaches, keeping in mind that underlying pathologies and concomitant conditions might be the source of the disturbing behaviour (WP6).
Recommendations:
Public information on BPSD, its prevention and management, and the risks that antipsychotics may pose should be part of general awareness campaigns aimed at decreasing the fear and stigma associated with dementia.
A shared medical and social patient file is a key element in a multidisciplinary approach, and as such, should be promoted.
In terms of public health, the first line in BPSD prevention and management should be psychosocial intervention, and in particular, psycho-educational programs.
4. Promoting autonomy through the use of advance directives and competence assessments as tools to facilitate and promote communication, discussion, consultation, and decision-making regarding future health care options between a person living with Alzheimer's disease and his or her carers (WP7).
Recommendations:
A presumption of competence needs to be guaranteed for every person diagnosed with dementia.
When the person living with dementia is not able to decide alone, a selected healthcare proxy should be involved.
National authorities are encouraged to provide a legal framework for advanced directives that is adapted to the specific needs of people living with dementia.
III. ALCOVE Final Symposium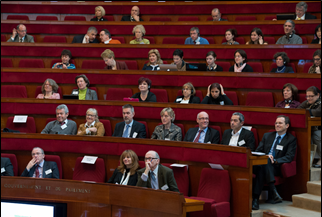 The ALCOVE project presented its final recommendations on March 28, 2013 at the Palais d'Iéna in Paris. The plenary session was opened by Jean-Paul Delavoye, President of the French Economic, Social, and Environmental Council; followed by Jean-Luc Harousseau, President of the French National Authority for Health; Michael Hübel, Head of Programmes & Knowledge Management, Directorate General Health & Consumers, European Commission; Alistair Burns, National Clinical Director for Dementia in the UK; and Jean-Yves Grall, French Health Director.
The ALCOVE project was pleased to have a discussion panel rich in experience and knowledge. Panellists included Francesca Colombo, Long Term Care-Quality Indicators, OECD; Jean Georges, Executive Director, Alzheimer Europe; Joël Ménard, Alzheimer Foundation, France; Véronique Roger, Chair, Department of Health Sciences Research, Mayo Clinic, USA; and Helga Rohra, Chair, European Working Group of People with Dementia.
The day began with a press conference targeted to members of the French press followed by the plenary session. During the day's discussions and presentations, it was emphasized that Alzheimer's Disease is not only a health problem, but a social problem as well, as many European Union countries' health systems are or will be facing a major challenge with the ageing population and the inherent rise in people living with this disease. While no cure exists yet, participants agree that there are many opportunities for improving the quality of life and social integration for persons living with the disease and their carers.

Over 200 participants from 23 different countries registered for the event. This high level of participation, coupled with a strong level of representation at the ministerial level, as well as the active cooperation from patient associations and their families with the ALCOVE project are evidence of the strong level of interest in Europe for the sharing of information on good practices and solutions that have been successfully implemented. With such collaboration, European Member States will be better equipped to face the challenge that dementia represents in Europe.
As a next step, ALCOVE Work Package Leaders and Partners, with support from Alzheimer Europe, will disseminate the ALCOVE Final Recommendations in scientific congresses, political meetings, and professional settings.
IV. Innovative dissemination tools: the ALCOVE Website and Toolbox
The ALCOVE Website

This interactive and accessible platform provides the latest results of the ALCOVE Joint Action in one click. Website contents include key messages from each Work Package (WP) leader in video format, executive summaries and recommendations on Dementia in Europe.

The online ALCOVE Toolbox for Antipsychotics limitation in dementia.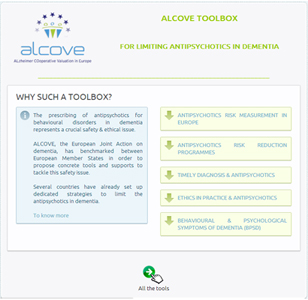 ALCOVE has chosen to build a shared Toolbox to tackle the safety issue of limiting antipsychotics in dementia while proposing the use of appropriate alternatives that already exist.
The Toolbox is an information-exchange platform which addresses all actors across all dimensions of care with key messages, concrete tools, and successful experiences/programmes in the form of case studies to improve the care and the care pathways, carer practices, and quality of life for persons living with Dementia while facilitating benchmarking.
The Toolbox is structured in such a way that allows web-visitors to click through the box and access the different dimensions of this antipsychotics-related safety issue: risk measurement in Europe, risk reduction programmes, timely diagnosis, ethics in practice, support systems for BPSD, and European projects to prevent & manage BPSD.
V. Lessons learned by the ALCOVE Work Package Leaders
1. Bénédicte Gombault from Fondation Roi Baudouin, Belgium: Rights, Autonomy & Dignity of people living with dementia
Working on ethics at the European level is a challenge due to differences in moral, ethnic, cultural and religious commitments. However during the ALCOVE project we easily identified some common values that are largely shared in the EU:
The dignity and identity of all human beings need to be protected, regardless of their medical condition. In the case of dementia, we are forced to explore the dignity, decision-making competence and civic rights of the individual in new terms.
Autonomy is an essential value in medical ethics. The respect given to a person's rights, choices and preferences is crucial. Dementia raises difficult ethical issues because the person's competence (and by extension competence to consent) is changing and evolving continuously.
We hope this work will help both persons living with dementia and their families and will provide health professionals and decision-makers with a more balanced view of dementia and how it relates to each person's autonomy.
2. Professor Dawn Brooker from the Association for Dementia Studies, Worcester, United Kingdom: Timely Diagnosis of Dementia
Using the ALCOVE recommendations, it is possible to benchmark progress at the local, national and European levels. This will be of interest to all those involved in the process of wanting to improve both the numbers of people successfully diagnosed and the quality of that diagnosis.
Working on the ALCOVE project has been many things - exciting, rewarding, challenging and informative. We have felt a great sense of solidarity discussing concerns and solutions across different European countries, recognising that we all struggle with similar issues, such as an increasingly dependent older population. We have also enjoyed making new friends from across Europe, sharing information and experiences that enrich our working lives and inspire us to develop new ideas based on a spirit of collaboration. Ultimately 'the ALCOVE experience' has re-affirmed our wish to make services better for people with dementia and their families against a backdrop of decreasing resources.
3. Dr. Michal Novak from Slovenska Akademia Vied, Slovakia: Monitoring and Evaluation
Early on, we were involved in both the theoretical and practical elements of the ALCOVE Joint Action, however the progress of the project and our continued involvement has brought us another dimension, broadening our horizons and allowing us to gain an insight into dementia epidemiology, diagnosis, and care at the European level. This substantially enriching experience has given us an important impetus for our future research work.
The common denominator of our experience on the ALCOVE Joint Action was the strong sensation of a commonly perceived and supported collaborative effort. Being in the privileged position of Evaluation work package leader, we entered in direct contact with all other partners on the project, having regularly compared their work against the planned progress. On many occasions, we have observed an enormous willingness to overcome incurring difficulties, intrinsic to this type of endeavour. We are very glad to have had the possibility to contribute to the successful fulfilling of the ALCOVE Joint Action's objectives.
4. Dr. Harriett Finne-Soveri from Terveyden ja Hyvinvoinnin Laitos, Finland: Behavioral & Psychological Symptoms of Dementia (BPSD) Support Systems
Along the ALCOVE project, optimal systems for caring and providing services for those who experience the behavioural and psychological symptoms of dementia (BPSD), have become clearer.
Few are the number of countries in Europe that have thoroughly designed guidelines for care, not only for those with dementia, but also for those experiencing BPSD. How often are these guidelines – even if they are good - supported throughout the entire country? How often, in practice, do persons experiencing BPSD actually receive care that is tailor-made for him or her and made available to the informal carer?
It is time to look past medications for the care of diseases, for example, antipsychotics to treat psychotic symptoms, and instead, to look around for solutions in everyday life. It is time to start seeing persons living with dementia – not as patients - but rather, as humans who can live up to one fifth of their lives with dementia. Let us find ways, together with them, to make good life possible.
About this Newsletter
ALCOVE Newsletter is an electronic bulletin edited by the Health Institute Carlos III of Spain.
Please e-mail to This email address is being protected from spambots. You need JavaScript enabled to view it. for any comments on this Newsletter or if you wish to unsubscribe.