The last 50 years in Europe have seen a dramatic increase in healthy life expectancy. However, this period has also seen a corresponding elevation in diseases linked to aging such as dementia.

More than 7 million Europeans are directly affected by dementia, the most common form being Alzheimer's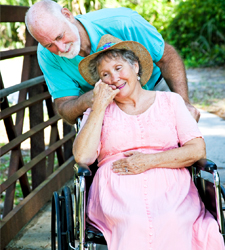 disease which is characterised by progressive memory and cognitive troubles as well as the occurrence of disturbing behaviour disorders.
Alzheimer's disease and other dementia are public health priorities in EU Member States due to their prevalence, cost and profound impact on society.

The current absence of a curative treatment for Alzheimer's disease does not translate to an absence of care. Today in Europe, both citizens and health professionals are mobilized to provide better care and services all along the progression of Alzheimer's disease, from early diagnosis to home or institutionalised care.

ALCOVE aims to improve knowledge on this disease and its consequences and to reflect together on the best means of preserving quality of life, autonomy and the rights of people living with dementia.

ALCOVE will contribute to the wellbeing of persons with dementia, by improving knowledge and developing preventive and care recommendations to facilitate policy and health care decision making in European countries.