Workpackage Leaders (WPL)

WPL 1: Haute Autorité de Santé, France

Dr. Armelle Leperre-Desplanques, MD (92), PHD (95), Manager of the Department of Pilot Programmes. Since 2004, she has managed a pluri-disiplinary team of health professionals responsible for the conception, coordination and development of innovative programs on public health issues for the improvement of care quality and safety. Several of the projects she has piloted have been focused specifically on the aged and those diagnosed with Alzheimer's disease (AD).



Ties with private-sector industries operating within the ALCOVE field of interest: none
WPL 2: Instituto de Salud Carlos III, Spain

Dr. Carlos Segovia, MD, MPH, is the Deputy Director of the International Research Programmes and International Relations Department of ISCIII. He has a MPH from Harvard University, in the area of public management and community health and has  8 years experience in PC management and quality programmes. He has been a structural trainee in DG Research of the EC, in the unit F2 Medical and public health. National Focal Point for EAHC DG SANCO Programme. Participating in several FP7 running projects.
WPL 3: Slovenska Akademia Vied, Slovakia
Michal Novak is a Full Professor of Neuroscience and Immunology and Microbiology at the NIU SAV. For 10 years he was a staff member in LMB MRC in Cambridge, MA, USA. He is a founding director of the NIU SAV and is in full charge of a large national research network focused on Alzheimer´s disease and related disorders. He is an internationally recognized expert on the pathogenesis of Alzheimer´s disease and tauopathies. He is co-discoverer of tau protein as a major constituent of the paired helical filaments in AD. He is in charge of the National Research Program on AD. He is the founding and current president of Slovakia's  Alzheimer´s Society and President of  the Slovak Neuroscience Society and its co-founder. He is been published  in some of the most prestigious journals e.g. Nature, PNAS, EMBO, J. of Biological Research, J. of Alzheimer´s Disease, etc.
WPL 4: Instituto Superiore di Sanitá, Italy
Dr. Nicola Vanacore, neurologist, PhD, researcher. Most of his scientific interests have been devoted to neuroepidemiology, risk factor definitions and conducting epidemiological studies with a special interest in drugs'  risk/ benefit ratio. He has published more than 150 scientific articles in international and national Journals.
WPL 5: Association for Dementia Studies, Worcester, United Kingdom
Professor Dawn Brooker is the Director of the Association for Dementia Studies (ADS). She is a qualified clinical psychologist and has worked in a variety clinical, academic and managerial posts in services for older people for nearly thirty years. In 2005 she was awarded a personal chair in recognition of her scholarship in practice development of person-centred care for people with dementia. In 2009 she established ADS to build evidence-based practical ways of working with people living with dementia and their families that enables them to live well. This is achieved through partnership working, research, education and scholarship. She is well known in dementia care and enjoys working at the interface between research, policy and practice.
Ties with private-sector industries operating within the ALCOVE field of interest: none
WPL 6: Terveyden ja Hyvinvoinnin Laitos, Finland
Dr. Harriett Finne-Soveri (M.D., Ph.D.) is an Adjunct professor in Geriatric Medicine. She is currently working as a chief of the Ageing and Services Unit, National Institute of Health and Welfare, and as Senior Medical Officer for the Helsinki City Social Department's Elderly Care Services. Her research areas cover clinical fields such as nutrition, pain, rehabilitation, medication, quality and work-load of care, payment systems and management. Her appointments include: interRAI Fellow, where she has been chair of the Strategic Planning Committee since 2001 and Member of the European Academy for Medicine in Ageing (EAMA). She has been published in many scientific and other publications in the field of Alzheimer's Disease.
The National Institute for Health and Welfare (THL) is a research and development institute under the Finnish Ministry of Social Affairs and Health. THL seeks to serve the broader society in addition to the scientific community, actors in the field and decision-makers in central government and municipalities. The aim is to promote the welfare and health of the population, to prevent diseases and social problems and to develop social and health services. THL pursues and carries out its objectives by means of research, development activities, official tasks,  through gathering information as well as international co-operation.
Ties with private-sector industries operating within the ALCOVE field of interest: none
WPL 7: Fondation Roi Baudouin, Belgium
Bénédicte Gombault studied law (including obtaining a  Master's in European law); she is a senior project manager for the projects on dementia within the KBF. She has a special interest in the legal and the ethical aspects related to Alzheimer's disease.

Ties with private-sector industries operating within the ALCOVE field of interest: none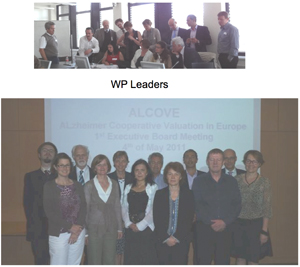 ALCOVE Project Partners (.pdf)